news category All News, General News, MPG Activity, Other Organisations created 24 June 2022
ICMP/MPG Creative Music Production scholarship.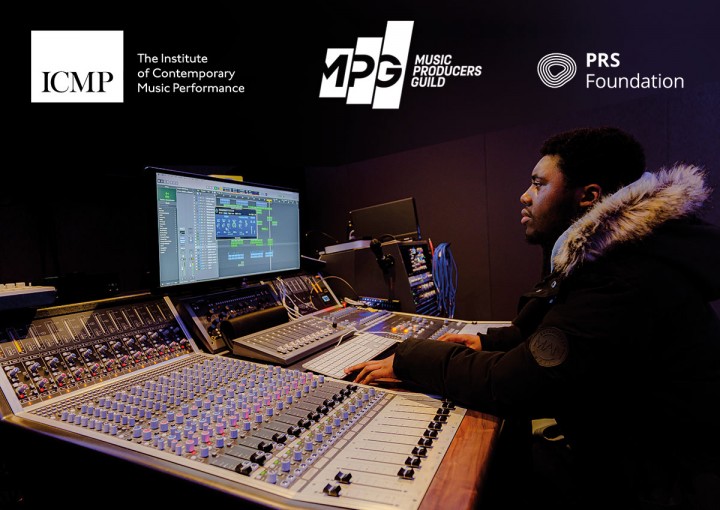 ICMP, alongside music industry partner The Music Producers Guild (MPG), is once again delighted to offer an outstanding opportunity for a talented student to develop their skills through our Creative Music Production scholarship.  
This year we're thrilled to announce that the scholarship is presented in association with PRS Foundation, the UK's leading funder of new music and talent development.
The scholarship, now in its second year, was created to offer an opportunity to anyone passionate about music production who might be unable to consider Higher Education as part of their career. The recipient will be given the opportunity to study on one of ICMP's one-year Cert HE Music Production courses without paying tuition fees. The courses are: Creative Music Production, Audio Engineering and Production or Music Production for Film, TV and Games.
These accredited courses equate to the first year of an undergraduate degree course. On completion, they offer the winner the opportunity to progress to the second year of the full BA (Hons) degree course.
Supporting individuals to launch brilliant music careers
ICMP, MPG and PRS Foundation all work to support individuals from all background to launch brilliant music careers. The MPG was originally conceived and supported by producers, mixers, recording engineers, re-mixers and programmers passionate about all aspects of the music-making process. As a collaborative and inclusive funder, PRS Foundation is home to pioneering funds including Women Make Music, co-founded the global Keychange initiative, and in 2021 launched the POWER UP programme which was co-founded by PRS Foundation and Ben Wynter and tackles anti-Black racism in the UK music sector.
---
Cameron Craig, MPG's Executive Director, said:
The MPG is proud to continue to be a part of this initiative to help emerging talent and increase diversity in the production community by supporting talent that otherwise might not get a chance."
---
Joe Frankland, PRS Foundation CEO, said:
We believe that the success of the music we fund is driven by the diversity of the people who create it. With this in mind, we are pleased to align with the ICMP/MPG Scholarship to help ensure that talented creatives from underrepresented backgrounds have the opportunity to develop sustainable careers to fulfil their potential."
---
Yaw Owusu, Senior POWER UP Manager, PRS Foundation, said:
We know through programmes including Women Make Music, Keychange and POWER UP that talent is everywhere but opportunity is not. Disparities are rife for marginalised genders and ethnicities, for disabled creatives and for those from lower socio-economic backgrounds, and the ICMP and the MPG recognise that more needs to be done to break down barriers. We know this scholarship will have a huge impact so hope to see many applying for this unique opportunity."
---
ICMP's Creative Music Production Programme Leader, James Rees, said: "Our Cert HE Music Production courses are a brilliant way into the recording business, offering you the chance to learn from our talented tutors and hone your musical skills using our state-of-the-art studios and gear. There's no better grounding for a successful career in music production and we can't wait to receive your applications for the scholarship."
Scholarship Application details
Applicants from all ethnicities, genders and backgrounds are encouraged to apply. Those from underrepresented groups, including, for example, disabled students, caregivers, Black, Asian and Minority Ethnic groups and students from low-income backgrounds, are especially urged to make submissions.
Applicants must complete the form and include a link to an originally produced track and a one to two-minute video describing why they think they have the skills and ideas to enter music production, as well as why they are a worthy scholarship recipient. 
Full application details can be found here.
The closing date for applications is Sunday 31st July 2022. The MPG and ICMP will then develop a shortlist and select one final lucky winner with the successful candidate due to be notified by email in early August 2022.