news category Education, MPG Awards created 28 July 2019
Will Mason Wins The 2019 MPG LIPA Prize
The MPG is delighted to announce that LIPA graduate Will Mason has been named as the recipient of the 2019
Music Producers Guild Prize, which brings with it a host of benefits including work
experience with award-winning professionals, studio equipment and financial support.
Now in its ninth year, the Music Producers Guild Prize rewards the most promising student to
graduate from The Liverpool Institute for Performing Arts (LIPA) Sound Technology degree
programme. The prize includes opportunities to gain experience with leading engineers and
producers, including MPG Recording Engineer of the Year 2019, Matt Wiggins, whose
credits include Adele and London Grammar. Mason also has the chance to attend recording
sessions at London's legendary Strongroom studios, which has hosted everyone from the
Prodigy to Hot Chip, and won the MPG Award for Studio of the Year 2019.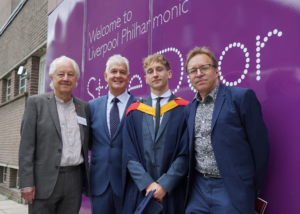 Originally from Leek in Staffordshire, Mason first got into music when his dad taught him to
play the drums as a youngster, but admits that he is mainly self-taught. Mason quit his job as
an IT technician to join LIPA after being inspired by the success of recent graduate Rich
Turvey who now works out of Liverpool's famous Parr Street studios.
"I had 2 friends who were graduates.Both were working in their chosen fields fairly soon after
graduating which was really reassuring to me. I wanted to surround myself with similarly
minded and talented people, I knew LIPA would offer this and I wasn't wrong."
Some highlights of the course included visiting seminars by Nile Rodgers and legendary Red
Hot Chili Peppers producer Andrew Scheps."
Mason was presented with his Prize by MPG Representatives and LIPA Companions Tony
Platt and Steve Levine, during LIPA's annual graduation ceremony, which took place on July
26th.
"Once again I'm thrilled to be presenting, along with fellow record producer Tony Platt, this
years MPG LIPA prize.Having had many of this years students attend masterclasses at my
own Liverpool based recording studio,I can honestly say that each year the standard gets
higher and higher. For Will to be selected by his peers is a real testament to his skills, and
enthusiastic approach to recording and production " says Steve Levine.
Mason's future plans include setting up a production hub and he cites Arctic Monkeys
producer James Ford as a role model: " He's source of constant inspiration for me as a local
lad 'done well'." said Mason.
MPG Executive Director, Olga FitzRoy, said "We're proud to sponsor this award, as it will
give the winner the opportunity to learn from the best talent in the industry. We hope
that this, combined with PPL's generous support will give talented students from all
backgrounds a real boost in this competitive field".
The prize also includes an AMS Neve 1073 Mic Pre, a visit to Avid's UK Headquarters, one
year's associate membership of the MPG, and tickets to the exclusive MPG Awards
ceremony held at London's Grosvenor House Hotel.