news category MPG Awards created 29 September 2015
Pro Tools Expert Sponsors Music Producers Guild International Producer Of The Year Award 2016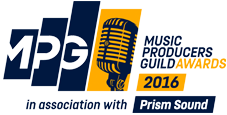 Pro Tools Expert, the largest independent Pro Tools web site and community in the world, are to sponsor one of the most prestigious categories at the MPG Awards 2016, which take place in London next year.
Pro Tools Expert will sponsor the 'International Producer of the Year' category, previously won by producers such as Rick Rubin, Butch Vig and Daniel Lanois.
For the last seven years, the Music Producers Guild Awards has recognised and celebrated some of the most remarkable and exciting talent in the history of music recording.

"Pro Tools Expert is a diverse community made up of hundreds of thousands of Pro Tools users around the world, many of them are MPG members and previous winners of MPG Awards. It makes perfect sense for us to throw our support behind this award and in particular the International Producer of the Year award to reflect that fact. We are proud to be friends of the MPG and many of the producers who the awards celebrate" said Pro Tools Expert founder Russ Hughes.
"We held our first Awards in 2009, one year after Pro Tools Expert was founded. Both have grown in significance over the years and we are very happy to welcome Pro Tools Expert on board as an MPG Awards sponsor. It's going to be a great night!" Andrew Hunt, MPG Director.
The 2016 Awards are to be held at Grosvenor House, Park Lane, London on February 3rd, 2016. The 15 awards will recognize the best and brightest names in music production including the Producer of the Year, who will also be awarded the first BRIT Award.
About Pro Tools Expert
Since starting in 2008 Pro Tools Expert has become the number one independent Pro Tools user site in the world. Pro Tools Expert is unique in offering tips, tricks, online video tutorials and news in one single source. Their community is made up of those who are beginners right through to Grammy winning producers. www.pro-tools-expert.com
About the MPG
The Music Producers Guild was conceived and is supported by producers and engineers who are passionate about all aspects of making and recording music. It is a not-for-profit company and is run by volunteers from the membership.
The achievements of this creative community are celebrated through the annual MPG Awards event, and we hope to stimulate development and evolution through the discussions and debate at our events and via the website. www.mpg.org.uk