news category MPG Activity created 3 September 2020
MPG launches Studio Membership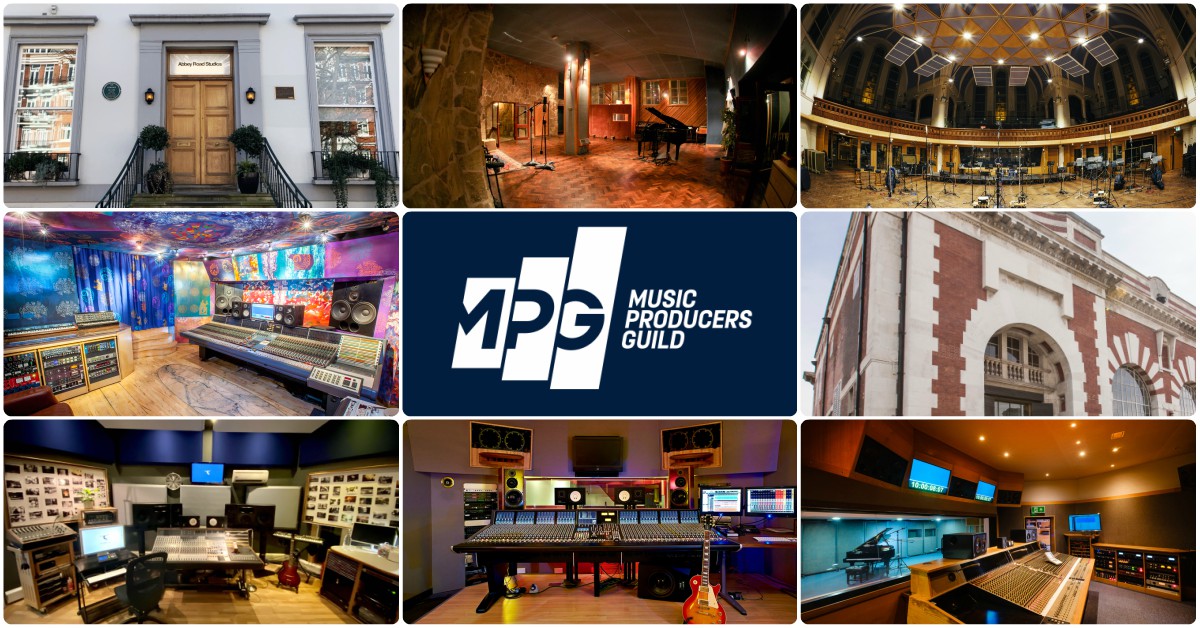 The Music Producers Guild has announced a new corporate membership for recording and rehearsal studios.
The move comes following a period of close collaboration between the MPG and a number of recording studios, working on issues such as access to ACE funding, government support from councils and developing guidance for Covid-safe working.
The membership includes representation at local and national government level through the MPG and UK Music, as well as discounted tickets to the MPG awards, and a number of exclusive discounts on equipment, software and services. The membership has been launched on a "pay what you can" basis for the remainder of 2020. There will be two tiers of membership fees for larger and smaller facilities respectively.
Founding members already signed up include AIR Studios, Air-Edel Studios, Abbey Road, Dean Street, Metropolis, Miloco Group, Strongroom and Parr Street Studios.
"The Covid-Crisis has shown what a supportive community there is amongst studios, engineers and producers, and it has also shown how important it is for studios to have a voice, otherwise they get forgotten about. We are pleased to have won some victories on behalf of studios already, most notably ensuring the guidance on Music Production was fit for purpose, and that they were not excluded from applying for ACE funding" said Olga FitzRoy, Executive Director of the MPG.
---
"We are delighted to be joining the MPG as founding studio members.  COVID has affected our beloved recording industry and we can't be more pleased to have the wonderful MPG team to help our industry bounce back stronger than ever."
Jasmin Lee – Managing Director – Dean Street Studios
"We greatly welcome this initiative by the MPG. Their support for recording studios throughout the COVID crisis has been invaluable and we are incredibly proud of this opportunity to join the MPG as founding studio members."
Pete Hofmann – Operations Manager – Miloco Group
"The COVID crisis has highlighted how important it is to have the recording industry represented at government level.  Our participation in MPG forums has helped to influence policy, and we are proud to join the MPG as a founding studio member." 
Chris Taylor – Studio Manager – Parr Street Studios, Liverpool
"Community is at the heart of everything we do in the studio. Sound and music is the language of human contact, and this pandemic has pushed people apart and put that culture at risk. MPG's Studio Membership is not only welcome, it is necessary. The only way studios will make it through this difficult chapter, is by doing so together." 
Jake Murray – Studio Manager – Strongroom
"We are thrilled to be a part of the MPG as a founding studio member. Now more than ever the recording industry needs to pull together as a unified body and lobby for change at a government level. From the extension to Studios of the TV and Film tax incentives to business rate relief through the pandemic the MPG has proven to be a fine advocate of the studio business.  The livelihoods of studio employees, engineers, assistants, producers, musicians and so, so many more depend on us putting strength in our numbers to fight for support for the entire industry."
Emma Townsend – Head of Studios – Metropolis Studios
"Air-Edel are delighted to be joining the MPG as founding studio members, we look forward to working with the team to further help and support our vitally important studio industry as we grow and adapt through challenging times"
Natalie Bannister – Studio Manager – Air-Edel Recording Studios
"2020 has demonstrated what can be achieved through collaboration and creativity across the industry. It was this spirit that allowed us to reopen Abbey Road, setting new standards for safe recording and production, so we're extremely happy to join the MPG as founding studio members."
Fiona Gillott – Studio Manager – Abbey Road Studios
AIR Studios is proud to be able to join the MPG as a founder studio member – an organisation that has already done so much for our industry in this difficult time."
Simon Knee – Director – Air Studios
For more information on joining the MPG as a studio member please email: studios@mpg.org.uk