news category MPG Awards created 13 December 2018
Producer Hugh Padgham To Receive Top Honour At The 2019 Music Producers Guild Awards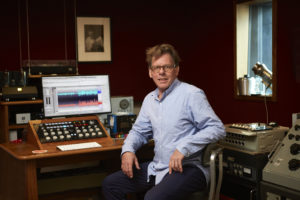 The Music Producers Guild will honour internationally acclaimed British producer Hugh Padgham at its 2019 Awards ceremony by presenting him with its PPL Presents The MPG Award For Outstanding Contribution To UK Music.
One of the UK's most successful producers of all time, Hugh Padgham has produced, engineered and/or mixed albums and singles that add up to over 150 million units sold worldwide. Among the many artists he has worked with are Sting, The Police, Phil Collins, Genesis, XTC, David Bowie, The Human League and Melissa Etheridge. The award he will receive from the MPG acknowledges the significant contribution he has made to the success of the UK's music recording industry over more than three decades.
Mick Glossop, MPG Executive Director, says: "During the course of his stellar career in music production, Hugh has proved himself a very worthy recipient of the Music Producers Guild Award for Outstanding Contribution To UK Music. His work with such a wide selection of internationally respected artists shows his versatility as a producer. He has an incredible ability to interpret an artist's vision and help them create records that are successful on both a creative and commercial level. He is also an exceptionally talented engineer and has pioneered a number of techniques such as the gated room drum sound that many others have adopted for their own projects. We are delighted to honour Hugh with this award in recognition of his work to date."
Padgham began his career in the late 1970s, starting out as a tape operator at Advision Studios before moving to Lansdowne Studios and then The Townhouse where he engineered and produced acts including XTC, Peter Gabriel and Phil Collins.
During his career he has produced and mixed numerous platinum selling and Award-winning albums including The Police's Ghost in the Machine and Synchronicity, that includes the international hit Every Breath You Take; Phil Collins' Face Value, Hello, I Must Be Going and No Jacket Required; Hall & Oates' H2O; David Bowie's Tonight; The Human Leagues' Hysteria; Adam Ant's Strip; Genesis' Abacab, the eponymous Genesis and Invisible Touch; Paul McCartney's Press To Play, Clannad's Lore and The Tragically Hip's album In Violet Light. He is also renowned for his work with Sting, which resulted in albums such as The Soul Cages and Ten Summoner's Tales, that includes the hit Fields of Gold.
With a Brit Award, two Music Week Awards, a TEC Award, a BPI Award and four Grammy Awards to his credit, Padgham is undoubtedly one of the world's most influential producers. He was also named as one of the Top 10 Most Influential Producers by Mix Magazine Era and is a Companion of the Liverpool Institute for Performing Arts (LIPA). Among the recording fraternity he is also lauded for creating the gated reverb drum sound that was used to such great effect on Phil Collin's single In The Air Tonight.
In recent years, Padgham has stepped back from mainstream producing to concentrate on running his own studio and production room business Sofa Sound, as well as nurturing new artists and lecturing with the renowned Boston based Berklee School of Music and LIPA. He is also an executive director of Gearbox Records, London, a new and exciting independent record label that specialises in contemporary music and vintage jazz. In 2018 Gearbox successfully released a never before heard Thelonious Monk live album from tapes recorded in Copenhagen.
In the last 12 months, all of Padgham's Phil Collins and Genesis albums have been re-released and he has also remastered David Bowie's album Tonight, which is available in a box set entitled Loving The Alien 1983-88.
As sponsors of the MPG Outstanding Contribution to UK Music Award, industry organisation PPL says it is delighted that Hugh Padgham has been chosen as the 2019 recipient.
Peter Leathem, Chief Executive Officer at PPL, says: "Hugh has changed the way that the nation listens to music through his pioneering work with Peter Gabriel, Phil Collins and countless other artists – from Kate Bush to McFly. His understanding of music, coupled with his ability to adapt, develop and embrace production technology, has led to sustained success over a number of decades. Our congratulations go to Hugh on winning such a prestigious award."
Hugh Padgham will receive his award at the MPG's 2019 Awards Ceremony, a must attend event that regularly attracts music industry stars and VIPs. This will take place on February 28th at Grosvenor House, London, and will be hosted by broadcaster and breakfast show presenter Shaun Keaveny.
You can listen to an exclusive interview with Hugh, conducted by Sue Sillitoe in November, 2018:
Tickets for the 2019 MPG Awards are now on sale. For price information and bookings, please follow this link:
http://www.mpg.org.uk/mpg-awards/2019-tickets/
Sponsorship opportunities to suit all budgets are also available and companies that would like to discuss this should contact MPG Awards Event Organiser Adam Cuthbertson.
Telephone: +44 (0) 207 127 2010.
Email:adam@vitalconcierge.co.uk