news category All News, Campaigns, MPG Activity, Music Industry, Shared Parental Leave and Pay created 22 January 2020
House of Commons Music Industry Debate
CULTURE MINISTER "NOT RULING OUT" MORE HELP FOR SELF-EMPLOYED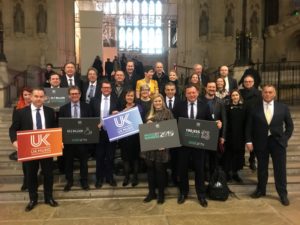 MPs, UK Music Members and MPG Executive Director after the Westminster Hall debate 
MPG Executive Director, Olga FitzRoy, together with UK Music members, yesterday attended a Westminster Hall debate in parliament where a number of issues relating to the music industry were discussed.
Chair of the Music APPG, Conor McGinn MP, who opened the debate, thanked Olga for here work to get shared parental leave for the self-employed, which was featured in both the Labour and Lib Dem manifestos at the General Election. Shadow Culture Minister, Kevin Brennan MP, summing up the debate, also thanked Olga for her work on this, and Culture Minister, Nigel Adams MP, responding for the government, said "We are not ruling out further support for self-employed parents and the evaluation of shared parental leave is ongoing. We will report on that and publish the Government response to the consultation in due course."
Another issue that affects our members is freedom of movement for musicians and those working in music post-brexit, and the Minister also stressed the Government's determination to support freedom of movement for the music industry.  "Touring is absolutely the lifeblood of the industry. We recognise the importance of the continued ease of movement of musicians, equipment, merchandise once we have left the EU. "Visa rules for artists performing in the EU will not change until the implementation period ends in December 2020. It's absolutely essential that free movement for artists is protected post-2020."
On copyright Mr Adams said: ""We support the overall aims of the Copyright Directive. But our imminent departure from the EU means we are not required to implement the Copyright Directive in full.It's absolutely imperative we do everything possible to protect our brilliant creators, as well as the consumers and the rights of users who consume music. I look forward to working with the music industry to ensure we achieve this."
Many of our members involved in film scores already benefit indirectly from the Film tax reliefs, and there are various discussions underway to see if a similar scheme could be implemented for different parts of the music industry. In response to a number of MPs mentioning tax-reliefs Mr Adams said "The creative sector tax reliefs are kept under review to ensure their ongoing effectiveness. I have spoken to music industry representatives and I am very, very happy to receive any evidence-based proposals for a tax relief for this sector."
You can read the debate in full here.
Read More