news category MPG Awards created 29 February 2020
The Music Producers Guild Announces its 2020 Awards Winners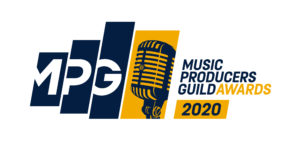 A host of music industry VIPs and celebrities filled London's Grosvenor House on Thursday for the 2020 Music Producers Guild Awards – an annual event that recognises the creativity, skill and talents of all music recording professionals.
The top accolade of Producer Of The Year was won by Dan Carey for his work on the Black Midi album 'Ducter', Kate Tempest's 'Firesmoke' and Fontaines D.C. 'Boys in the Better Land'.
Another notable winner was Stormzy who won The MPG Inspiration Award. He couldn't be there is collect his award due to touring commitments, but sent a "huge thank you to The Music Producers Guild" and said he was "very proud" and "wished he could be there". He also sent a shout out to Chris Andoh who was there tonight to take home the UK Single Song Release Of The Year award for, Stormzy's huge hit single, 'Vossi Bop', which Chris co-wrote and produced.
Representing the female recording professionals was Marta Salogni, who won Breakthrough Producer Of The Year for her work with The Orielles, Georgia Ruth, Hero Fisher, Two Monkeys and Yak.
The 12th MPG Awards featured a total of 16 award categories, each designed to recognise and celebrate the best and brightest talent in music production, along with the industry's rising stars. The event was hosted by broadcaster Mark Radcliffe.
For a full list of 2020 MPG Award winners and sponsors, please see the list below:
UK Producer Of The Year sponsored by Flare Audio
Dan Carey
Recording Engineer Of The Year sponsored by AMS Neve
Daniel Moyler
Mix Engineer Of The Year sponsored by Miloco Studios
Mark 'Spike' Stent
Re-mixer Of The Year sponsored by Headliner
UNKLE
Breakthrough Producer Of the Year sponsored by Focusrite
Marta Salogni
Self-Producing Artist Of The Year sponsored by AVID
Matthew Healy, George Daniel (The 1975)
Breakthrough Engineer Of The Year sponsored by Genelec
Caesar Edmunds
International Producer Of The Year sponsored by AIR Studios
Finneas O'Connell
Mastering Engineer Of The Year sponsored by Steinberg
Matt Colton
UK Album Of The Year sponsored by Daft Studios
The 1975: A Brief Inquiry into Online Relationships
UK Single Song Release Of The Year sponsored by Shure
Stormzy: Vossi Bop
The A&R Award, sponsored by The Association of Independent Music (AIM)
Ed Horrox
Studio Of The Year sponsored by MQA
The Church Studios
The MPG 2020 Awards categories in the gift of the MPG are:
The MPG Inspiration Award, sponsored by Audio Note, which was awarded to Stormzy
PPL Present The MPG Award For Outstanding Contribution To UK Music, sponsored by PPL and awarded to Stephen Street
The Special Recognition Award, sponsored by Steinberg, was given to Pamela McCormick